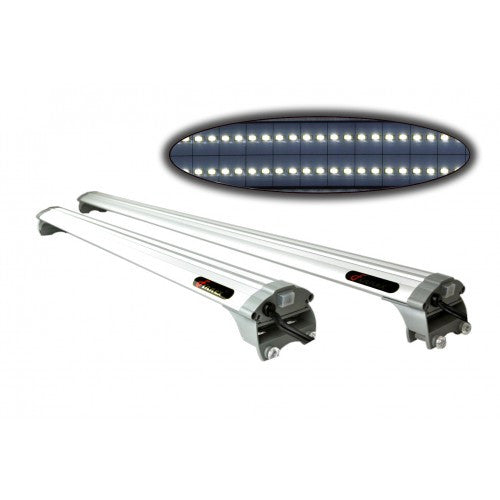 Ray2 Ultra Slim LED (DS-Daylight)
Regular price $84.99 Sale
Finnex Unibody Ultra Slim High Output LED

Intensive Daylight LEDs
18". (144) 7000k Dual LEDs
24":

(192) 7000k Dual LEDs

30":

(192) 7000k Dual LEDs

36":

(288) 7000k Dual LEDs

48":

(384) 7000k Dual LEDs

This Contemporary Ultra Slim designed LED fixture features a series of intensive PAR LEDs to promote Marine & Freshwater growth. All models feature a moisture resistant PC Splash Guard to protect against water mishaps. The durable high output LED bulbs are built to last 40,000+ hours. A unique leg fixture allows this LED light to mount on various sized aquariums and sump setups. To extend LED bulb longevity, the circuit boards are built with high quality aluminum and the fixture itself acts as the heat sync to allow ample cooling and superior heat dissipation. 1/10 the power value of standard incandescent lighting and equvilant to three T5 bulbs! The Ray II comes in different lengths as well as Dual High Output LED combinations. Models are either equipped with a Dual 7,000k combo High Intensive LED strips.
| | | | | | |
| --- | --- | --- | --- | --- | --- |
| Model | Length | High Output LEDs | # LEDs | LED Type | Wattage |
| Ray II 16" DS | 16 Inches | 7000k / 7000k | 88 | 3014 | 9w |
| Ray II 18" DS | 18 Inches | 7000k / 7000k | 96 | 3014 | 15w |
| Ray II 24" DS | 24 Inches | 7000k/ 7000k | 144 | 3014 | 20w |
| Ray II 30" DS | 30 Inches | 7000k/ 7000k | 144 | 3014 | 20w |
| Ray II 36" DS | 36 Inches | 7000k/ 7000k | 192 | 3014 | 29w |
| Ray II 48" DS | 48 Inches | 7000k / 7000k | 288 | 3014 | 39w |